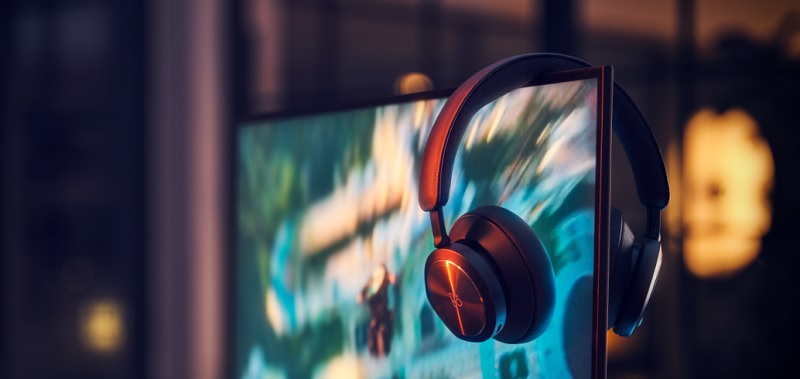 Bang & Olufsen offers noise cancellation capabilities that focus on sound aesthetics, letting you hear every detail in noisy environments without compromising on sound quality. Our advanced noise cancellation technology is expertly tuned by Bang & Olufsen sound engineers in close collaboration with our partners to reproduce the original sound material as authentically as possible, effectively blocking out ambient noise without adding unwanted effects to your music.
Beoplay Portal feature a new generation of digital Adaptive Active Noise Cancellation (ANC) technology. The noise cancellation is processed through a hybrid ANC system which is a combination of a feed-forward ANC and a feedback ANC. The outside microphone employs the feed-forward technology, which measures incoming, ambient noise and suppresses the mid to upper frequencies – an example being the main part of human voices. The inside microphones utilise feedback technology. It senses the music from the speaker as well as the lower to mid frequencies of the ambient noise. It then separates the two and generates an anti-noise signal that blocks out humming noise from e.g. airplanes, trains and buses. When the adaptive feature is activated in the Bang & Olufsen app, the headphones will analyse surrounding sounds and automatically select the most suitable noise cancellation algorithm. If the background noise changes, the ANC will adapt.
The memory foam and the soft leather of the ear pads help to keep out unwanted noise, blocking high-frequency sounds through passive noise cancellation. The premium materials also ensure sound isolation, so anyone close by will not be disturbed by sound leaking out. This is the so-called Passive Noise Cancellation. Thanks to all this, Beoplay Portal allow you to immerse yourself entirely in the listening experience. It also makes it possible to enjoy games or music without excessive volume levels.