If you connect additional video products to your sound center, then you can set up the products in the Sources menu.
When the Beovision Harmony is switched on and you connect additional products to an HDMI IN socket, the television will detect an unconfigured source. A message appears on the screen and you can follow on-screen instructions to configure the source.
Registering a product connected to the television enables you to operate it with your Beoremote One. However, for this, you must use one of the HDMI A-D sockets placed on the back of the Sound center in combination with a PUC socket and an IR-transmitter.
Sources have default settings, for example, sound modes and speaker groups that suit most situations but you can change these settings if you wish.
Press to bring up the Home menu.
Use the arrow buttons to select

the Bang & Olufsen TV Appand press the centre

button.
Press or to select

Sound & BeoLink...

and press the

centre

button.
Press or to select

Sources and press the button.
Press or

to select a source and press the

centre

button.
Follow on-screen instructions.
You can give the source the name you want to appear in the source list if you select Name, press the centre button and follow on-screen instructions.
*This change is also be reflected in your Beoremote One display.
In the Device setup menu, you set up the connected product to a peripheral unit controller (PUC*) table and a PUC socket and select if you want the product to switch to standby automatically.
*The peripheral unit controller enables you to operate a connected non-Bang & Olufsen product with the Bang & Olufsen remote control. The peripheral unit controller built into your Beovision Harmony "translates" signals from the remote control into signals understood by the connected product. For the "translation" to take place correctly, the appropriate PUC table must be downloaded into your Beovision Harmony.
You can set a speaker group to be activated when you select the source. For information about sound modes and speaker groups, see the article Sound settings.
The sources are brought up on the Beoremote One display using the TV and MUSIC buttons.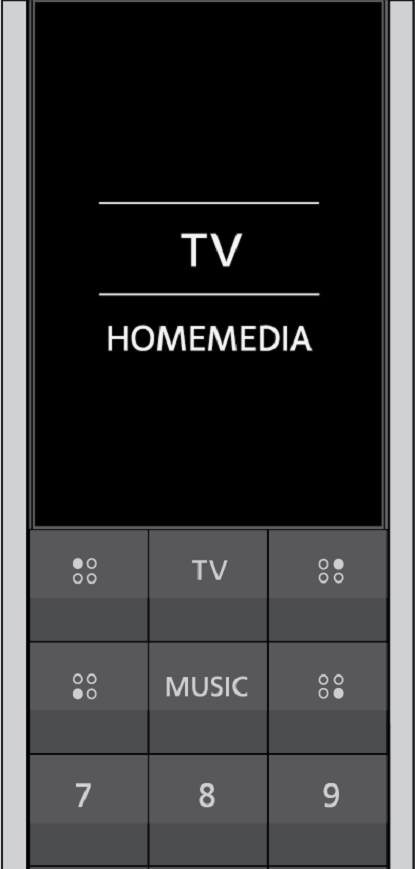 In the Beoremote One Lists menu, you can select in which list on your Beoremote One you want this source to appear (TV, MUSIC, both or none).
Note: If you install an app in the webOS, it is automatically displayed in the TV list.
You can also enable or disable the HDMI Control of your device. Different vendors have their own implementation of the control via HDMI. If you are controlling this device via PUC control, we recommend disabling it.
Next: Sound settings