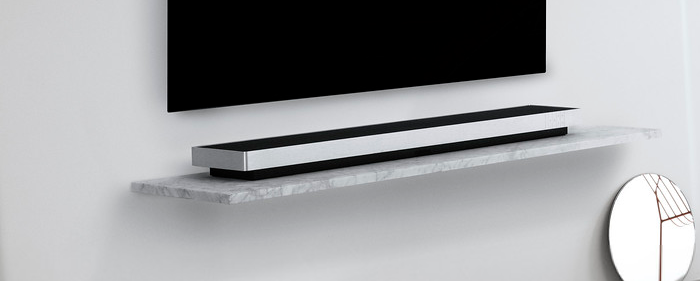 You can choose the listening mode that best suits the programme material.


| | |
| --- | --- |
| TV | Optimizes for content primarily based on dialogue. Works well for TV programmes, news or podcasts |
| MUSIC | Delivers the most accurate stereo sound experience |
| MOVIE | Gives you a more immersive and room-filling sound experience when watching a movie or sports |
| NIGHT LISTENING | Reduces the difference in level between the quiet and loudest passages to reduce large jumps in dynamics |
| NONE | Provides a "purist" sound without additional processing |
The listening modes can be personalised by adjusting the Upmix, Virtualize, LFE (Low-Frequency Effects Tuning), and Content Processing.

| | |
| --- | --- |
| UPMIX | Creates a signal for the centre when the input is 2.0 stereo. In cases where the input signal has 3.0 or more channels, turning the UPMIX on and off will have no effect. |
| VIRTUALIZE | Creates the effect of having extra loudspeakers positioned in the surround and height locations. Note that this effect is less noticeable when you are not sitting directly in front of the BeoSound Stage. |
| LFE TUNING | Turns the LFE channel in the incoming signal on and off. Note that there are many audio signals or instances where this control will have little or no audible effect since it is dependent on the mix of the audio signal itself. |
| CONTENT PROCESSING | Controls the dynamics of the signal. Set to HIGH for night listening, where you want to reduce the difference in level between the quiet and loudest passages. Note that this means that quieter sounds will become louder and louder sounds will become quieter regardless of the volume settings. |
You can assign a listening mode to each source under the Product Settings menu.
Next: Sources