Instructions for your television are described with your Bang & Olufsen remote control and may be accessed either via your television or another device connected to the internet.
For these instructions, we recommend that you become familiar with the differences between your Bang & Olufsen remote control and the LG remote control described, see the article Remote control.
Remote control operation
The below shows an example of remote control operation.
To activate sound modes directly…
Press

LIST, then or to bring up

Sound in the BeoRemote One display and press the

centre

button.
Use

and to step between modes and press the

centre

button to select a mode.
Press to go back.
Remote control buttons, such as LIST or Speaker, indicate either a physical button you must press or a digital button shown as display text on the Beoremote One. Press LIST, TV or MUSIC on Beoremote One to bring up text in the Beoremote One display. For more information, see your Beoremote One guide.
How to navigate in menus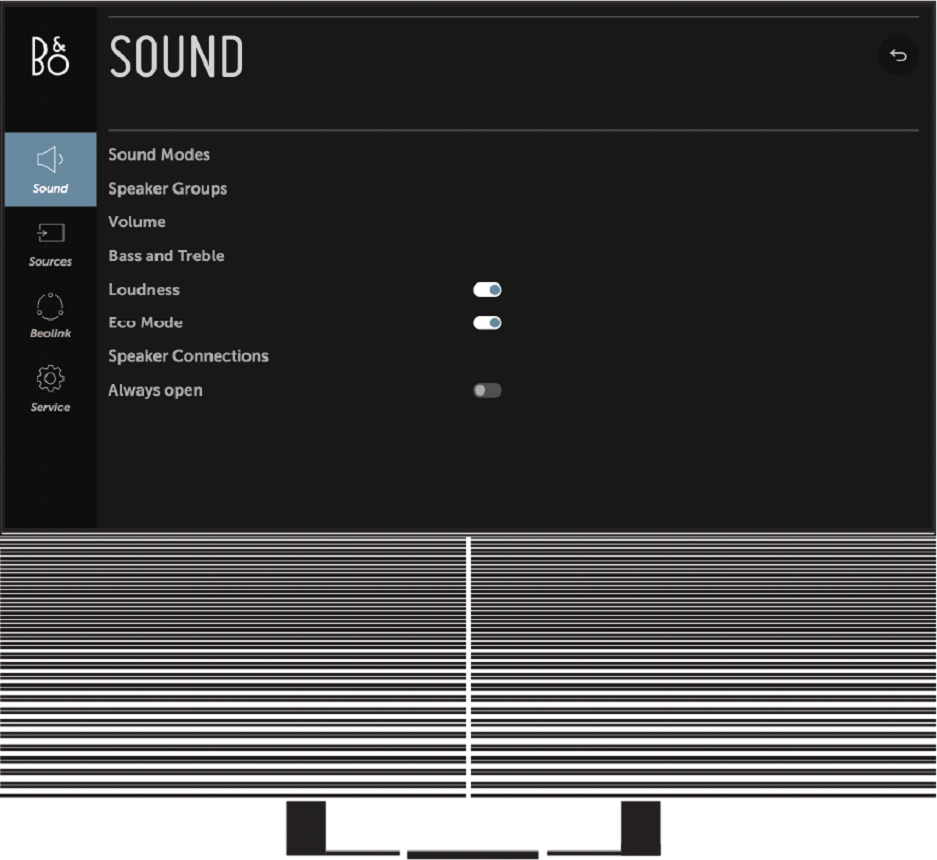 Use your remote control to navigate in menus and find different features. Press

to bring up the home menu which gives an overview of available apps and different features.
To access Bang & Olufsen settings, go to the Bang & Olufsen LG tv-app. Find it by pressing

to bring up the Home menu, where the app can be accessed.
When a menu is on the screen, you can move between menu options, reveal settings or enter data.
Use , , and to highlight a menu, bring up a submenu, go back a menu level or change a setting.
Use the number buttons to enter data.
Settings are automatically saved as soon as they are changed.
Use the coloured buttons to select an option.
Press to leave the menu.
The steps between menu pages
Some menus take up more space than available on the TV screen. You can then scroll through these menus.
Press or

to scroll through menu items.
Select source
You can bring up a source by pressing the TV or MUSIC button and select a source in the remote control display. Some sources can also be selected from the Home menu.
Press to bring up the Home menu.
Use the arrow buttons to highlight a source and press the

centre

button.
Next: Set up your television