Your Beovision Harmony is also your music system with its serious sound and impressive music streaming capabilities in audio mode.
In Audio mode, your television screen turns black, stays positioned close to the floor and is partly covered by the speakers.
The front white LED is lit to indicate that the television is on.
Audio mode is triggered by AirPlay 2, Chromecast, Bluetooth, TuneIn, Deezer, DLNA (Music), Line-In, Music, Optical, Multiroom sources and QPlay.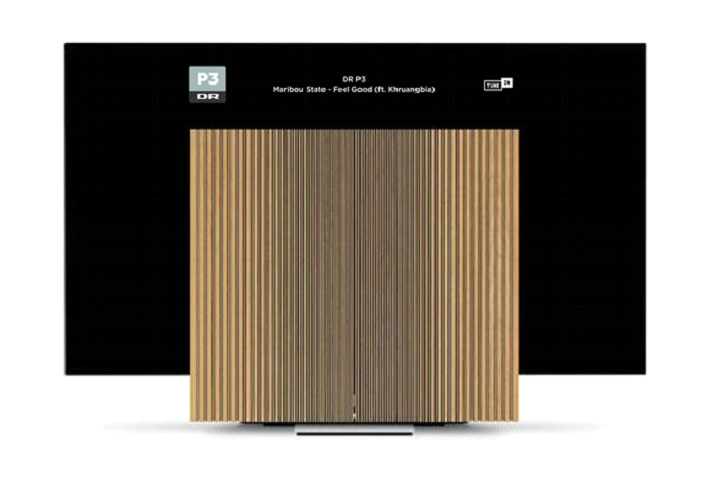 In this mode, helpful things like a radio station and artist information (metadata) will be displayed on the top part of the screen.
Streaming services providing information on the screen:
Spotify

TuneIn

Deezer

iTunes
Apple Music

Chromecast

X

AirPlay 2

X

X

X

X

Bluetooth*
*Cover art will not be shown when streaming via Bluetooth.
Note:
Built-in TuneIn source will show metadata information.
Built-in Deezer source will not show metadata information
The black screen saver is activated after the metadata is displayed on the screen for 2 minutes without interaction. Manual operation (e.g. change track/station, volume regulation, play/stop etc.) cancels the screen protection.