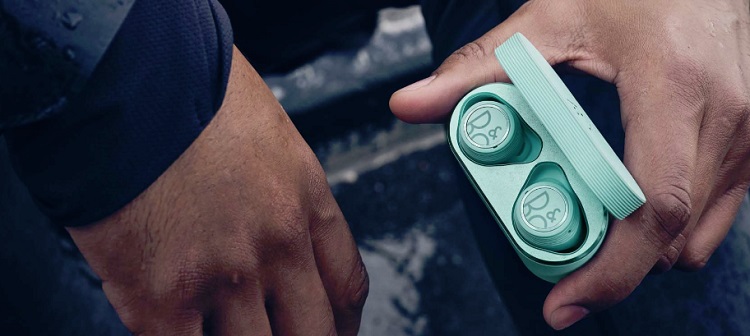 In case the left earbud has lost connection to the right or has been replaced, it needs to be paired to the right earbud before Bluetooth pairing mode can be enabled.
IMPORTANT:
Before continuing:
Leave both earbuds in the charging case connected to USB power for at least 1 hour.
Check that the status indicators on both earbuds turn white when removing them from the charging case.

After removing the earbuds from the charging case, press and hold both touch areas on the earbuds simultaneously for 3-5 seconds.

If the light indicator in both earbuds is now flashing blue, continue on your device to pair to Bluetooth

If not, please follow the steps below.
---
Depending on the software version of the earbuds, there are different methods to pair the two earbuds. Please follow the instructions below to get the correct instructions.
Determine the software version of the earbuds.

If your Beoplay E8 Sport previously have been added to the Bang & Olufsen app, you can check the software version by going to Settings -> Products -> Select your Beoplay E8 Sport -> About -> Software.

If your Beoplay E8 Sport have never been added to the app, the production code printed in the charging case can (with exceptions) indicate the software version of the earbuds.




Select the instructions below that fits the software version of your Beoplay E8 Sport: